CLIMATE ACTION OFFICIAL REPORT 2016 - ADVERISE IN THE 10TH ANNIVERSARY EDITION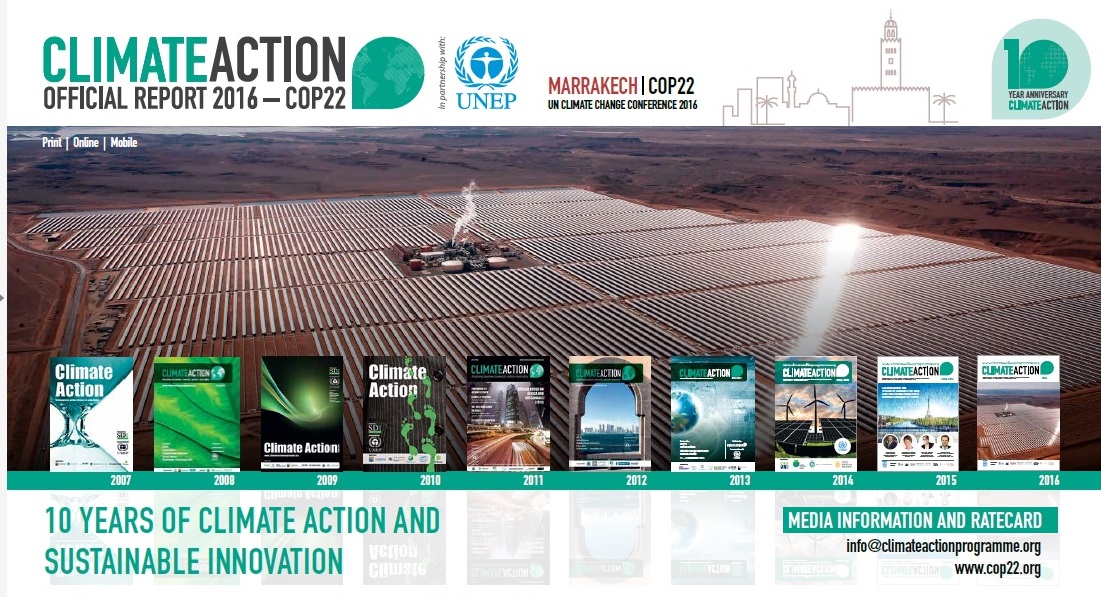 Launched in 2007 at COP13 Bali and now working towards the 10th anniversary edition, the Climate Action official report is read and referred to consistently throughout the year and features world-class thought leadership from the most influential political, environmental and business commentators.
Published annually, this special 10th edition will be distributed to over 10,000 industry professionals through print and a further 500,000 digitally, offering you high visibility of your brand on a global scale.
The readers of the report include decision-makers representing government, blue-chip organisations, NGOs, the investment community, environmental organisations including UN agencies, industry associations, think-tanks, foundations, academia and the international press.
Find out more by downloading our media pack, which includes:
Authors and contributors confirmed to date
Hot topics covered
New features for the 10th anniversary edition
The report's offline and online distribution, including at events and our close relationships with leading industry associations
Additional exposure to over 40,000 executives every week through the Climate Action website and bi-weekly newsletter
Ratecard

NEXT STEPS...
To find out more information about how you can advertise in this year's special 10 anniversary edition, download the Climate Action 10th edition media kit - Click Here
View 2015's issue - click here