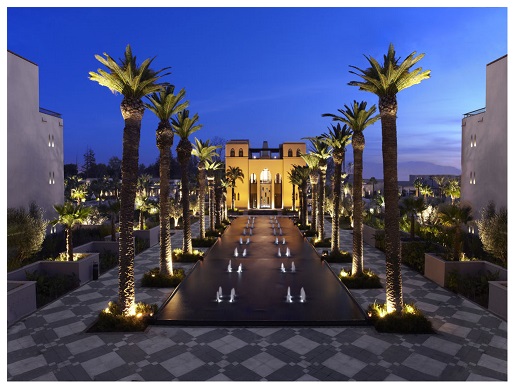 The Sustainable Innovation Forum (SIF16) will be held from the 14th to 15th November at the Four Seasons Resort Marrakech:
Four Seasons Marrakech
1 Boulevard de la Menara
Marrakech, 40000
Tel. +(212) 524 359 200
Fax. +(212) 524 359 201
Map: Click here

Hotels are booking up fast for COP22, so if you have not already secured accommodation then please consider booking rooms for your team as an urgent priority.
The COP22 website has a great list of hotels in Marrakech to suit different budgets. Please click here for the list.
Airbnb has options such as rooms or riads for several people with interesting prices. For more information click here
The Atlas Asni, avenue Mohamed VI ex avenue de france, Hivernage, Marrakech, 40000, Morocco, is close to the Four Seasons and has been recommended – See directions here, You can contact them by phone on: +212524339900 or can book through booking.com. We have put together a list with further hotels on Booking.com here
Additionally, the hotel Palais Al Bahja has agreed for the following rates: 79euro/night/person with breakfast at 11 euros, just mention that you are a delegate of the SIF16. The number of rooms is however limited. The contact details are: Email: resa.hotelpalaisalbahja@gmail.com , tel: +212 524 433 001, website - click here
The Lawrence d'Arabie Hotel Marrakech, Avenue Mohamed VI, 02 Angle Omar iBn Khattab etAbou Bakr Seddiq – Hivernage, 40000 – Marrakech has single rooms for 70 euros and double rooms for 80 euros and suites for 100 and 150 Euros.
A whole riad is available at Dar-Assiya with a 10% discount (for 3+ days pickup and dinner included) at the price of 1000 euros per day. Contact details: 20, derb ouali kaat benahid, 40000 Marrakech Medina, Maroc, Phone: (+212)524382180, Email: info@darassiya.com, http://www.darassiya.com/
Event Location: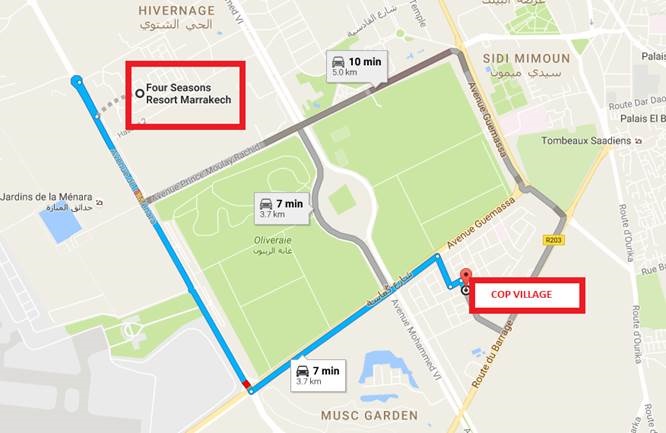 Located at the Four Seasons Hotel Marrakech just outside the UNFCCC Blue Zone, attendees do not require UNFCCC accreditation to attend the Sustainable Innovation Forum.